Pier Pleasure Sectional 4' Vinyl Dock Bench - Without Armrests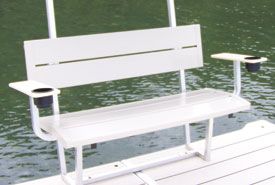 Pier Pleasure Sectional 4' Vinyl Dock Bench - Without Armrests
*This Item Is For Pick Up Only At our Richmond IL Store
Vinyl Dock Benches

Add a comfortable bench to your dock. Our benches are available in maintenance-free Gray or Tan Vinyl.
Not only are our benches made with a durable and sturdy aluminum frame, but the entire support bracing is in contact with the dock surface. This provides you with the safest seating solution on your dock.
Our benches are installed without the need for drilling any additional holes into the surface of your dock making the installation all the easier and faster!
Vinyl Bench
Easy to install, easy to maintain. This bench features a vinyl seating surface and angled back rest making it a comfortable place to relax.