Pier Pleasure Dock Bench Canopy Frame - Only (ACBNCH-CNPY)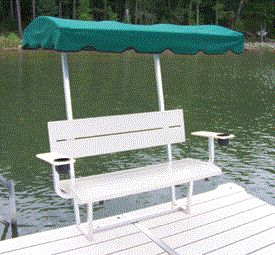 Pier Pleasure Dock Bench Canopy Frame - Only (ACBNCH-CNPY)
*This Item Is For Pick Up Only At Our Mchenry Store
Bench Canopy Frame Only
This Item does (Not Ship) Purchase is for (Pick Up Only) in our Mchenry Sale Location.

Add more comfort to your bench with a canopy and arm rests.

The arm rests are available gray or tan vinyl to match your vinyl bench.  

Canopies are available in Vinyl or SeaMark™ material to match your boat lift canopy.