Seastar Pro Series Hydraulic Steering System; (HK7400A) (3469320)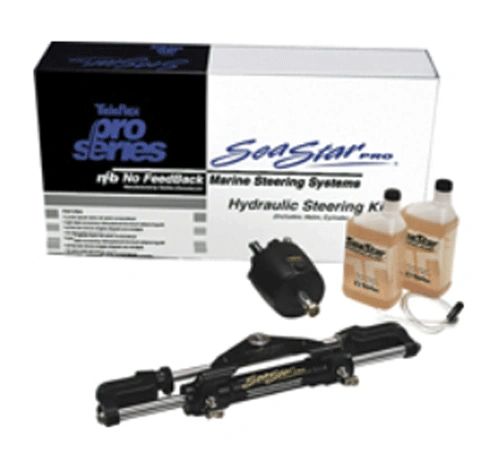 Seastar Pro Series Hydraulic Steering System; (HK7400A) (3469320)
The ultimate steering for high performance boats - High-speed single outboards to 300 HP - Ultra Responsive steering with low effort - Patented No Feedback technology - 4 turns lock-to-lock for balanced comfort and control (1500psi) - Suitable for speeds over 60 MPH. Standard 3/4" tapered steering shaft - Precision-built for long life in the marine environment - Exceeds N.M.M.A. certification requirements and A.B.Y.C. standards. Order wheel and hoses separately.
SeaStar PRO Outboard Steering systems are suited for all those critical high speed, single powered outboard boats, like Bass, Flats, combo Race/Ski and other performance orientated boats capable of speeds in excess of 65mph. Before ordering it is necessary to determine the proper cylinder and helm pump for your application. See application guide below. All SeaStar PRO systems require the use of a SeaStar PRO helm and SeaStar PRO (1500psi) reinforced Kevlar hoses with All SeaStar PRO systems.
APPLICATIONS
Seastar Pro is for high-performance boats with single non-power-assisted outboards up to 350 HP, especially those capable of speeds over 65 MPH, which demand maximum steering control and comfort. It is suitable for use with high-performance propellors and jack plates.
FEATURES
• Patented steering lock valves. • Low friction hydraulic steering
system.
• 4.25 turns from lock-to-lock.
• Compact helm has only a 4-7/16" footprint – needs only 3" dash hole (tilt requires larger hole).
• Optional SeaStar Pro cylinders with longer shaft bushings and even larger pivot bushings for an even more 'solid feel'.
• Factory swaged hoses are Kevlar® reinforced.
• Packaged complete with helm, cylinder, fittings, oil, bleeder kit and detailed instructions.
• Standard 3/4" tapered steering shaft.
• Fast, easy installation.
• Meets A.B.Y.C standards.
• Meets N.M.M.A. certification requirements.
• SeaStar Pro is suitable for use with jack plates and performance props