Pier Pleasure Boat Lift Manual Cantiliver Lift Model AL40114 (Close Out Assembled Display Lift)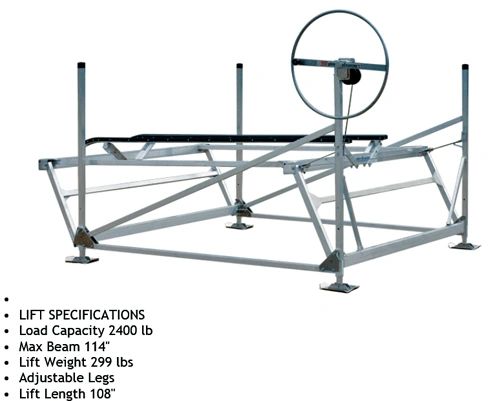 Pier Pleasure Boat Lift Manual Cantiliver Lift Model AL40114 (Close Out Assembled Display Lift)
All Pier Pleasure cantiliver boat lifts are standard with non-corrosive stainless bolts, stainless cable and brass nuts, giving you many years of service while maintaining a clean apperance. Pier Pleasure cantiliver boat lifts work best in applications where there is little water fluctuation. Pier Pleasure cantiliver boat lifts use only one cable and have fewer moving parts than vertical lifts. This keeps the cost of maintenance lower than comparible vertical lifts.
Provide full support for your boat with full-length V-Bunks. They are adjustable both horizontally and vertically for varying boat hull designs. They have an aluminum channel for strength with flared ends for easy docking of your boat.
The STANDARD full-length V-Bunks use extruded vinyl, aluminum assembly, and non-corrosive fasteners.
All Stainless Hardware & All Lift Cables
Aluminum Pulley Sheaves (Not Plastic) with Stainless pins with grease zerks, along with Pivoting Foot Pads
Full-Length Guide-Ons will assist you in centering your boat on your lift. They adjust horizontally and vertically to fit your boat. Flared ends allow for easier entrance into your boat lift.
Cantilever Lift shown with Full-Length V-Bunks and optional Centering Guides installed.
The Motorstop helps prevent damage to your boat motor's lower unit and helps position the boat on the lift.
Canopy Frames
A wheel kit assists in the installation and removal of the lift and can be removed for storage