Pier Pleasure 8000 lb 120" Wide Hydraulic Vertical Boat Lift DC (12V)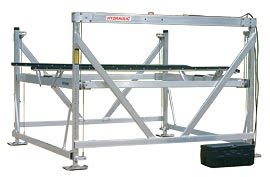 Pier Pleasure 8000 lb 120" Wide Hydraulic Vertical Boat Lift DC (12V)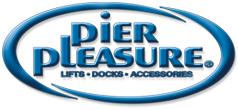 Model (DC 12V) AL80120V-HYD
Lift shown with Full-Length V-Bunk and optional Motorstop.

60" of Vertical Lifting Height - Excellent for Shallow Water!
Vertical Boat Lift Specifications

| Model | Lift            Capacity      |  Beam Width |      Lift Length |      Lift Weight |
| --- | --- | --- | --- | --- |

| | | | | |
| --- | --- | --- | --- | --- |
| AL80120V-BB |       8,000 lbs. |      120 inches      |    148 inches         | 612 lbs. |

Vertical Hydraulic Lifts 5000 lb. Vertical Hydraulic Lift
Shown with Full-Length V-Bunk and Motorstop.

Quick & Quiet Operation

Press a button on your wireless remote control. Seconds later your boat is in the water and ready to go. With a reliable, rugged and extremely easy to operate Pier Pleasure Hydraulic Boat Lift, you'll never hesitate to use your boat again.

The hydraulic cylinder is enclosed in a beam assembly. This allows for easy installation on any Pier Pleasure vertical boat lift. There is no direct exposure of the cylinder to water and no exposed moving hydraulic cylinder parts. This will provide a clean appearance and safe operation of the lift. Stainless bolts, pins and brass nuts are used on all lifts and accessories to prevent corrosion and maintain a clean appearance for many years. A two-button remote operates the hydraulic system with a manual back-up switch inside the hydraulic pump box.

Available in 12 Volt (DC) and 110 Volt (AC).

All Pier Pleasure Vertical lifts are standard with, non-corrosive stainless bolts, stainless cable and brass nuts, giving you many years of service while maintaining a clean apperance. Aluminum sheaves are used to maximize cable life and to ensure lasting performance under heavy use. Pier Pleasure vertical lifts offer rigid diagonal V-bracing on both sides, giving uncompromised strenght on demand when your boat is raised to maximum height. Our V-braced design also allows for non-restricted access to your boat from either side of the lift, which is ideal for slip installations. Vertical lifts are excellent in shallow water conditions and when weight of boat exceeds 4000 pounds. In these applications where the water level changes drastically and where maximum wave clearance is needed. Our direct vertical rise of 66" allows you to keep your boat high and dry without continually moving and adjusting your lift.  
Provide full support for your boat with full-length V-Bunks. They are adjustable both horizontally and vertically for varying boat hull designs. They have an aluminum channel for strength with flared ends for easy docking of your boat.
The STANDARD full-length V-Bunks use extruded vinyl, aluminum assembly, and non-corrosive fasteners.
Canopy Frames
A wheel kit assists in the installation and removal of the lift and can be removed for storage.
MORE OPTIONS

AC/DC Remote Shore Commander Electric Motors

Prices for boat lifts & canopy frames are sold and priced unassembled, Local assembly and installation is available. Most other options can be shipped UPS. Customers picking up from out of state will be subject to ILL sales tax upon pick up.

Customers picking up from out of state will be subject to IL sales tax upon pick up.

Allow up to 2-weeks prior to pick up if product is not in stock.
All Stainless Hardware & All Lift Cables
Aluminum Pulley Sheaves (Not Plastic) with Stainless pins with grease zerks, along with Pivoting Foot Pads
Full-Length Guide-Ons will assist you in centering your boat on your lift. They adjust horizontally and vertically to fit your boat. Flared ends allow for easier entrance into your boat lift.
Cantilever Lift shown with Full-Length V-Bunks and optional Centering Guides installed.
The Motorstop helps prevent damage to your boat motor's lower unit and helps position the boat on the lift.