Pier Pleasure Boat Lift 12V Hydraulic Vertical System Added To Existing Vertical Boat lifts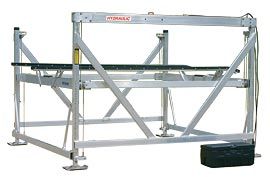 Pier Pleasure Boat Lift 12V Hydraulic Vertical System Added To Existing Vertical Boat lifts
Pick up only from our Mchenry Location, orders are subject to availability, call prior to placing an order.
Quick & Quiet Operation Press a button on your wireless remote control. Seconds later your boat is in the water and ready to go. With a reliable, rugged and extremely easy to operate Pier Pleasure Hydraulic Boat Lift you'll never hesitate to use your boat again. All of our vertical lifts are standard with non-corrosive stainless steel bolts, stainless cable, and brass nuts, giving you many years of service while maintaining a clean appearance. Thick urethane sheaves are used to maximize cable life and to ensure lasting performance under heavy use. Our vertical lifts offer rigid diagonal V-bracing on both sides, giving uncompromised strength on demand when your boat is raised to maximum height. Our V-braced design also allows for unrestricted access to your boat from either side of the lift making it ideal for slip installations.
The hydraulic cylinder is enclosed in a beam assembly. This allows for easy installation on any Pier Pleasure Vertical Boat Lift. Stainless bolts, pins, and brass nuts are used on all lifts and accessories to provide years of reliable service.
Stainless pins with grease zerks are installed in all ten sheaves used on the lift. This delivers lubricant between the sheave and pin. This unique feature will allow the sheaves to turn with less friction and require less maintenance in the future.
The hydraulic pump, motor, and battery are enclosed in a poly box that can be locked to protect your investment. During periods of inactivity, the hydraulic hoses can be disconnected and the box stored indoors.
This is especially useful during the winter months to keep the unit away from freezing temperatures. With the removable hydraulic unit, the lift is lighter for installation and removal.
The hydraulic lift comes standard with a two-button remote for raising and lowering the lift. Additional remotes are available and are easy to program to each specific unit.
An optional solar panel is available for charging the battery. Solar panels are available in 5 Watt or 11 Watt panels.
The optional Box Rack can be used to keep the hydraulic system off the dock and out of the way. This provides a neater and cleaner appearance. It can be mounted on a post style dock, as shown, or slide onto the side of any Pier Pleasure dock.
The optional Box Rack is also available to mount to the canopy arm on the the boat lift.
The Lift Jack allows you adjust the boat lift legs by yourself and assists with installing wheel kits and retracting the lift legs.

The jack comes standard with a long hook to reach down in the water. The hook attaches to the front beam. No need to put your head under water!

Prices for boat lifts & canopy frames are sold and priced unassembled, Local assembly and installation is available. Most other options can be shipped UPS. Customers picking up from out of state will be subject to ILL sales tax upon pick up.

Allow up to 2-weeks prior to pick up if product is not in stock.