Hewitt Boat Lift Canopy Cover By Rush-Co Marine (Shelter-Rite Fabric SR18) 18 Size's to Choose From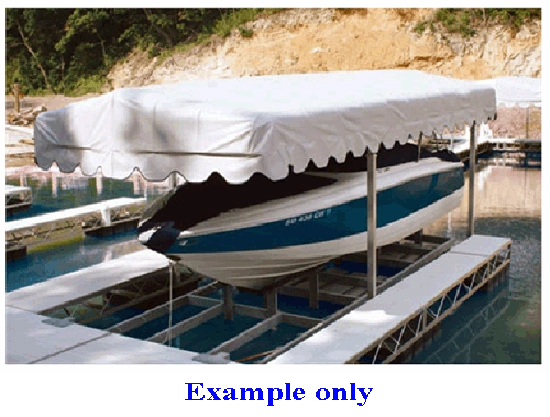 Hewitt Boat Lift Canopy Cover By Rush-Co Marine (Shelter-Rite Fabric SR18) 18 Size's to Choose From
Shelter-Rite® SR18 by Seaman Corporation
This "Made in America Premium Fabric" is engineered to meet and exceed Rush-Co's extensive performance criteria. Shelter-Rite® is an 18-oz PVC-coated high-tenacity polyester material that will not rot, shrink or stretch and offers unparalleled adhesion (to reduce wind whip), color match and colorfastness. This is the best PVC-coated fabric we have ever worked with from anywhere in the world. We have used tens of millions of yards in far more severe applications than marine, and it out-performs all others. These covers are also constructed by using heat-welded seams in the main body of the cover to create a waterproof environment for your boat.
Note: Shelter-Rite® fabric is the most consistent in color year to year, roll to roll and cover
to cover. Seaman Corporation uses computerized pigment formulation equipment that
all but eliminates this issue. (Occasional sheen variation can create the appearance that
colors vary ever so slightly.) Covers made of Shelter-Rite® are covered under the Rush-Co. 7-year limited warranty.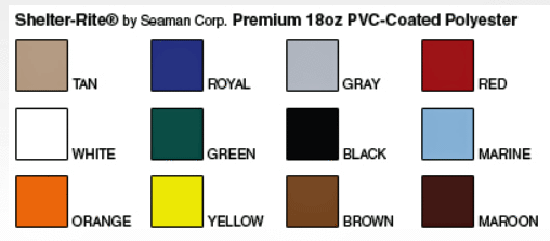 Shelter-Rite colors show: Gray, Tan, White, Royal & Green
Hewitt® Characteristics


• 12" Valance
• Several styles available
• Tower canopy (high arched)
• Peak roof canopy (distinctly all straight slopes)
• Standard canopies:
- Rounded ends and sides
- No cross bars for attaching
Click Here for a Hewitt® Frame Specification Sheet
Rush-Co. Marine Product Performance

Rush-Co only offers fabric options that will meet all of our customer's needs. With an industry leading warranty, only Rush-Co Marine regularly tests fabrics for tear strength, abrasion resistance, coating adhesion, stitch and seam strength, cold flex and wind whip.


Limited Warranty

7-Year Warranty Terms below apply to Rush-Co lift canopies made with 13oz. SLT Shelter Rite® or 18oz Shelter-Rite® fabric.
5-Year Warranty Terms below apply to Rush-Co lift canopies made with HarborTime™ fabric.


Rush-Co Marine warrants only to the original purchaser of a Rush-Co Boat Lift Cover (said original purchaser hereafter called the "customer"), that the Rush-Co Boat Lift Cover, when properly installed and utilized as a boat lift cover, will remain in good visual condition for a period that expires on the last day of the final warranty year. The start date of the warranty is the customer's actual invoice date. This warranty applies only to failure due to workmanship or material defects subject to the following terms, provisions and conditions:
In the event of failure and/or defect and written notice of a claim during the applicable warranty period is provided to Rush-Co, Rush-Co provides the following pro-rated warranty schedule: Rush-Co will pay for a portion of the replacement value and the customer will pay a portion of the replacement value (replacement value is determined by using the prevailing retail price at the time of warranty/replacement) as per the chart below. In the event that Rush-Co chooses to repair the cover at any time during the warranty period, the customer will not be charged for the repair.
Rush-Co must receive the defective canopy cover within 30 days of the customer claim.
7-Year Warranty Terms apply to Rush-Co lift canopies made with Seaman Shelter-Rite® fabric ONLY.

The pro-rated 7-year schedule will be as follows:

Year 1,2,3
Rush-Co will pay 100% of replacement value. Consumer pays 0%
Year 4
Rush-Co will pay 60% of replacement value. Consumer pays 40%
Year 5
Rush-Co will pay 40% of replacement value. Consumer pays 60%
Year 6
Rush-Co will pay 20% of replacement value. Consumer pays 80%
Year 7
Rush-Co will pay 15% of replacement value. Consumer pays 85%
*An original invoice or photo copy must be presented at the time of warranty to establish date of purchase or
year 7 will be used.