Hewitt Boat Lift Canopy Cover By Rush-Co Marine (Hydrofend Fabric) 29 Size's to Choose From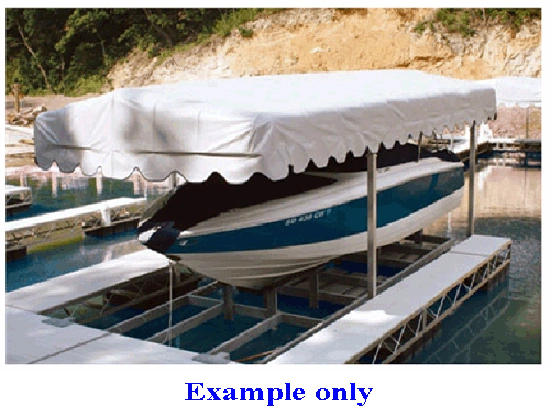 Hewitt Boat Lift Canopy Cover By Rush-Co Marine (Hydrofend Fabric) 29 Size's to Choose From

Hydrofend™ Coated fabric is made in U.S.A and combines strength, beauty, and water repellency in this lightweight and durable construction. Hydrofend outperforms uncoated fabrics with up to six times greater water resistance.  Forged from a durable polyester monofilament yarn with great tear and tensile strength it is well suited for marine applications.  With a proprietary solvent coating that creates an armor to fend off surface abrasion and to prevent fraying for the tough textile while providing defense against moisture.  It offers a very lightweight construction that is both abrasion resistant and breathable.  The lightweight, yet durable and long lasting 8oz per yard material makes Hydrofend easy to install and remove at a mere 1/3 to 1/2 of the weight of most common vinyl materials. The attractive matte, woven appearance Hydrofend canopies are offered in 10 color options engineered to maintain their vibrancy season after season due to the solution-dyed fiber construction.

Hewitt® Characteristics
Hewitt Flat End                              
• 10" Valance 
• Flat end canopy frames with vertical end supports (most often 20' length or shorter frames)
• Ribs sit on top of 3" x 3" side tub, washers welded on flat ends for ties downs
Measuring :
• Length: Total length of canopy on side, Width is outside to outside of hoist uprights
Fastening :

• Quicklash webbing with bungie balls along side and bungie hooks on ends.