Harbor Master Boat Lift Canopy Cover By Rush-Co Marine (Harbor-Time Fabric) 9 Size's to Choose From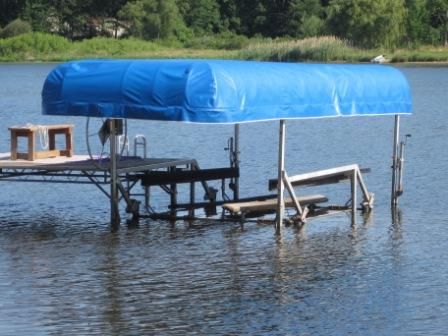 Harbor Master Boat Lift Canopy Cover By Rush-Co Marine (Harbor-Time Fabric) 9 Size's to Choose From
Harbor-Time™
Harbor-Time™ is a "Premium Woven Polyester, American-Made Fabric" that has an extremely durable "pigment-stable" acrylic coating on both sides of the material. An acrylic coating retains a beautiful soft cloth appearance and insures a long cover life. Harbor-Time™ fabric was designed for high-UV and high-moisture environments and is superior to all other leading fabrics we have tested. With a Harbor-Time™ canopy, you will get compliments on the inviting appearance.

Note: The Glen Raven Mills 5-year colorfast warranty applies to Harbor-Time™ fabric.
The Rush-Co. 5-year limited warranty applies to other product warranty situations applying
to Harbor-Time.



Harbor Time Colors show: Shale, Beige, Putty, Nautical, Mallard, Cordovan
Harbor Master® Characteristics

• 12" Valance
• Rounded end panels
• Slight peak in middle
• Flat tie bar
• Hooked bungees




Click Here for a Harbor Master® Frame Specification Sheet


Rush-Co. Marine Product Performance
Rush-Co only offers fabric options that will meet all of our customer's needs. With an industry leading warranty, only Rush-Co Marine regularly tests fabrics for tear strength, abrasion resistance, coating adhesion, stitch and seam strength, cold flex and wind whip.


Limited Warranty

7-Year Warranty Terms below apply to Rush-Co lift canopies made with 13oz. SLT Shelter Rite® or 18oz Shelter-Rite® fabric.
5-Year Warranty Terms below apply to Rush-Co lift canopies made with HarborTime™ fabric.

Rush-Co Marine
warrants only to the original purchaser of a Rush-Co Boat Lift Cover (said original purchaser hereafter called the "customer"), that the
Rush-Co
Boat Lift Cover, when properly installed and utilized as a boat lift cover, will remain in good visual condition for a period that expires on the last day of the final warranty year. The start date of the warranty is the customer's actual invoice date. This warranty applies only to failure due to workmanship or material defects subject to the following terms, provisions and conditions:
In the event of failure and/or defect and written notice of a claim during the applicable warranty period is provided to Rush-Co,
Rush-Co
provides the following pro-rated warranty schedule:
Rush-Co
will pay for a portion of the replacement value and the customer will pay a portion of the replacement value (replacement value is determined by using the prevailing retail price at the time of warranty/replacement) as per the chart below. In the event that Rush-Co chooses to repair the cover at any time during the warranty period, the customer will not be charged for the repair.
Rush-Co must receive the defective canopy cover within 30 days of the customer claim.
5-Year Warranty Terms apply to Rush-Co lift canopies made with HarborTime™ fabric.

The pro-rated 5-year schedule will be as follows:

Year 1,2,
Rush-Co will pay 100% of replacement value. Consumer pays 0%
Year 3
Rush-Co will pay 60% of replacement value. Consumer pays 40%
Year 4
Rush-Co will pay 30% of replacement value. Consumer pays 70%
Year 5
Rush-Co will pay 15% of replacement value. Consumer pays 85%
*An original invoice or photo copy must be presented at the time a warranty claim is presented to establish the date of purchase.