Great Lakes Boat Lift Canopy Replacement, (Shelter-Rite Fabric) "13 Size's to Choose From"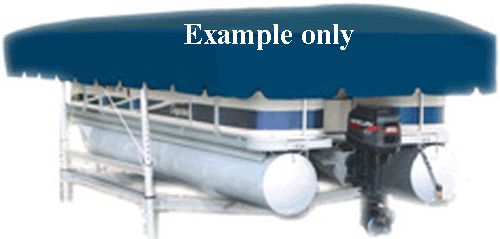 Great Lakes Boat Lift Canopy Replacement, (Shelter-Rite Fabric) "13 Size's to Choose From"
Great Lakes Replacement Canopy Cover, Rush-Co. Marine is your one-stop-shop for high quality boat lift canopy covers at affordable prices. We've been manufacturing boat lift canopy covers for boat lift manufacturers for nearly 50 years. Now through the creation of Rush-Co. Marine, we can offer them to you, the consumer, direct from us, the boat lift canopy cover manufacturer. If you've had problems in the past with fit, availability or lead time, a Rush-Co Marine boat lift canopy cover is your solution. (Free Shipping UPS Ground in the Continental USA.)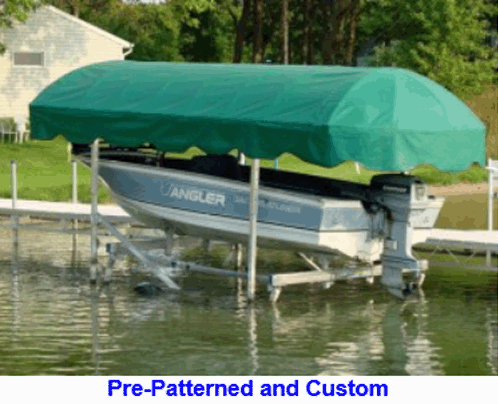 Our Rush Co line of boat lift canopy covers are custom-tailored specifically for the frames of each boat hoist canopy brand and model. These covers are ideal for new canopy frames or as a replacement to an existing frame.
We feature custom canopies for Shore Station, Hewitt, Porta-Dock, Flow, and more.


Highest Quality
Rush Co canopy covers are backed by years of experience in the manufacture of boat lift canopy covers.
Manufactured by highly-skilled craftspeople in the U.S.A., these pre-patterned canopy covers feature the highest grade marine materials to provide you with you best canopy money can buy.
These sturdy, dependable covers will stand up against the sun, rain, wind, mildew to provide years of protection for your boat.


Beauty & Value
Rush Co canopy covers offer more colors at substantial savings. Our canopy covers are offered in rich colors and stunning fabrics, including Sunbrella & SeaMark.

Rush Co canopies are designed to offer more canopy choices at big savings, while providing years of beautiful & durable boat protection.
Shelter-Rite® is an 18-oz. PVC-coated high-tenacity polyester material that will not rot, shrink or stretch and offers unparalleled adhesion (to reduce wind whip), color match and colorfastness.
This is the best PVC-coated fabric we have ever worked with from anywhere in the world. We have used tens of millions of yards in far more severe applications than Marine and it out-performs all others.
These covers are also constructed by using heat-welded seams in the main body of the cover to create a waterproof environment for your boat.




Note: Shelter-Rite® fabric is the most consistent in color year to year, roll to roll and cover to cover. Seaman Corporation uses computerized pigment formulation equipment that all but eliminates this issue.
(Occasional sheen variation can create the appearance that colors vary ever so slightly.) Covers made of Shelter-Rite® are covered under the Rush- Co. 7-year limited warranty.

WARRANTY


7-Year Warranty Terms below apply to Rush-Co. lift canopies made with Seaman Shelter-Rite® fabric.


Rush-Co. Marine warrants to the original purchaser of a Rush-Co. Marine Boat Lift Cover utilized as a boat lift canopy, when properly installed, will remain in good visual condition for a period that expires on the last day of the final warranty year.
The start date of the warranty is based on the original owner's actual invoice date.
This warranty applies only to failure due to workmanship or material defects and excludes fading or matching separate canopy fabrics, subject to the following terms, provisions and conditions:


In the event of failure following the date of sale, Rush-Co. Marine provides the following pro-rated warranty schedule:
Rush-Co. will pay for a portion of the replacement and the original purchaser will pay a portion of the prevailing retail price at time of warranty/replacement as per the chart below.
In the event that Rush-Co. chooses to repair the cover at any time during the warranty period, the customer will not be charged for the repair.


Ships Ups Only. (Free Shipping UPS Ground in the Continental USA.)