Pier Pleasure Sectional Dock Stairs 7-Step - Unassembled (ACSTEP-7)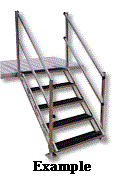 Pier Pleasure Sectional Dock Stairs 7-Step - Unassembled (ACSTEP-7)
This Item (Does Not Ship) Purchase is for (Pick Up Only) in our Mchenry Sale Location.

Install dock steps off your dock into the water. A safe alternative for those unable to use the ladder.
Our steps have adjustable legs to accommodate any water depth and to adjust the angle of the stairs to fit your needs. There are caps on the ends of the rails and posts to assure your safety from sharp edges. They are made of aluminum to prevent rust, be sturdy, and easy to install and remove.
The steps attach to your dock without drilling any additional holes into the dock surface.
Available in 5, 6, 7 and 8 Steps